Maternity Wear
Congratulations on your growing bump!
It's such an exciting time and you're no doubt feeling a mix of emotions...happy, scared, thrilled, tired! And a whole lot more! One thing you might be wondering about is how you're going to dress your new shape. It can seem overwhelming at the start, with so much choice out there, but we're here to narrow it down and make this new stage as a pregnant mumma, that little bit easier!
Casual and active wear
Exercise tights that feel comfortable over your growing belly, can be hard to find. That's why when I came across these Cotton On leggings, that sit over your bump, I jumped for joy! They come in a range of colours, and sizes, don't feel too tight, and grow with you. You can also purchase a cropped version for the warmer months.
If you are in need of something slightly more supportive, you can't go passed the SRC tights. They're designed to minimise varicose veins, and support the pelvis, and are great to wear while exercising or under normal clothes in the cooler months. Although they are more pricey, they wear well, and could be used for multiple pregnancies.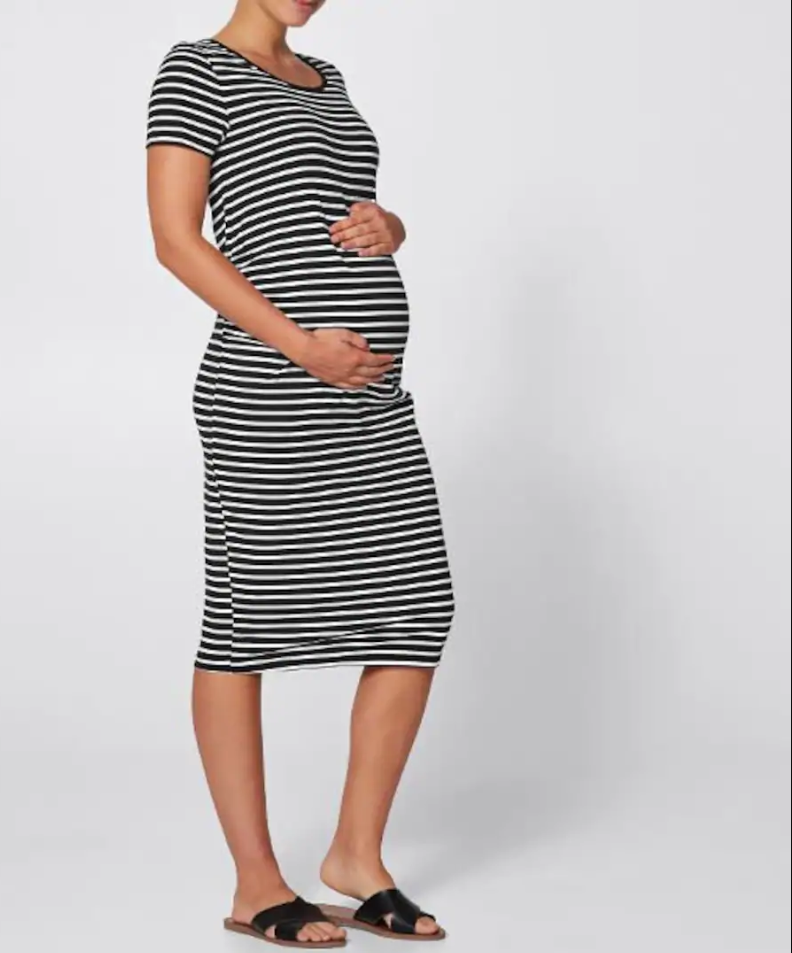 Finding great staples that you can accessorise or dress up or down, will help you to feel confident in your changing shape. These stretchy maternity dresses from TARGET are really comfortable, stylish and a great price point. They come in basic colours as well as this striped number.
Every pregnant woman needs a good pair of jeans. When I was pregnant, I lived in these JEANSWEST skinny leg jeans. They come in a variety of colours, and the large belly band sits comfortably over a growing bump.
Loose or flowing tops are a pregnant woman's best friend! Especially in the warmer months. SUSSAN have a large range of pretty maternity shirts to choose from. This tie fronted grey number could be worn over a body con dress or with a pair of jeans.
If you're looking for something more corporate, QUEEN BEE has you covered. They stock a range of different brands, and will express ship across the country. This spotty number is my favourite and screams SPRING!
Special occasion wear
There's no need to panic if you have a special occasion to dress for while pregnant. There are so many options now for maternity formal wear.
This beautiful embroidered number would be beautiful for a party or even the races (yes even us pregnant mares can kick up our heels too) Pair it with wedged heels for comfort.
Pregnant and have an engagement or wedding to attend? This beautiful, sleek and timeless dress from Queen Bee maternity ticks all of the boxes and could also be worn as a feeding dress, beyond pregnancy.
Swimwear
Maternity swimwear has come a long way over the years. It no longer has to include a frilly skirt (although if that's your thing than that is totally fine too)!
Swimwear galore is a great go-to for pregnancy swimwear, that is affordable, stylish and caters to lots of different shapes and sizes. Tankini's have become quite popular, allowing the coverage of a one piece, with the flexibility (hello frequent loo trips) of a bikini.
However you decide to dress your growing bump, my biggest piece of advice is to embrace the changes as much as you can. Have fun, and remember, you'll be back to being you soon enough, but take the pressure of for now and flaunt that beautiful belly!
Erin Giansiracusa
Join the conversation on The Village
We know that staying on top of your weight can sometimes seem like an overwhelming task. Here's some things to consider when trying to maintain a healthy body weight.